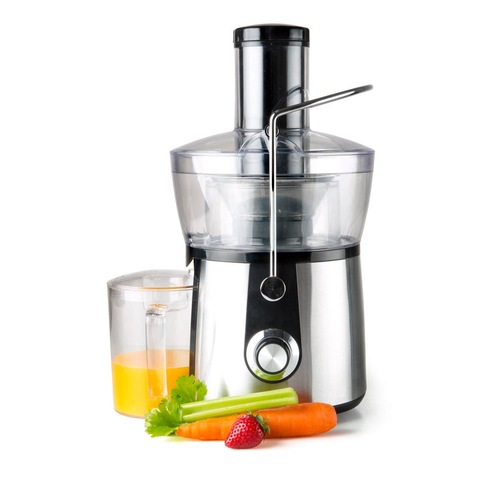 There are many types of juicers and choosing the right one for you will probably be different for each person. What a juicer will do is as different as the foods you will juice with them. Some of the most nutritious foods are very fibrous with a relatively low percentage of juice. You can checkout some of the top 10 juicers in UK here.
Some foods have hard seeds or pits that will not go through a juicer, but the food after removing stones will juice nicely. Some foods are better made into a puree or homogenized than being totally separated from the fiber.
What foods do you plan on juicing? Assess your needs and the type of foods you want to juice. Do you want puree, or clear juice? Do you want raw or cooked juice? How often are you planning to make juice? Will you make juice several times a day, daily, weekly, monthly, seasonally, or only once a year? With the answers to these questions you can start to formulate a juicing plan to meet those needs.
There are several different types of juicers that will give you very good juice, depending on your goals and needs. There are three that I would consider using for cooked foods. The steamer juicer will give you a clear juice by steaming the food until the cooked juice strains out through holes in the colander pan.
The food strainer sauce maker will separate skins, cores and seeds from foods to give a fine, medium or coarse texture puree. The blender is good for breaking up soft fiber and seeds to make a homogenized or puree type juice product. This last one can be used for raw or cooked foods.
For raw food juices there are more juicer choices. We have already mentioned the blender, which works well with cooked or raw food. For juicing citrus fruits there are manual and electric citrus juicers. For juicing most types of foods a masticating juicer will work slowly to preserve enzymes and possibly produce less foam. The wheat grass juicers are masticating juicers. There are manual and electric wheat grass juicers.
There are also masticating juicers that will juice most foods but will not juice wheat grass. The centrifugal juicer has a fast spinning grater that breaks up the food and throws it through a sieve that will separate the juice from the pulp or fiber. Some of these machines eject the pulp to another container and some spin it dry but do not eject it.
Another feature to look at in the centrifugal juicer is the size of the feed tube. Large feed tubes are convenient because you don't have to cut up the food to juice so small. Centrifugal juicers are faster juicers but typically do not juice softer foods as dry as the harder foods.
There are many brands of juicers in each of these categories. The prices on juicers range from a few dollars to thousands. If the juicer is going to get daily or hourly use, you will want to buy a sturdy machine that will last and serve you well through continual use. You will also want to know that you can get replacement parts if you need to make repairs.
For occasional juicing, the price, size, and looks may be as important to you as functionality. Do you plan to use the pulp or throw it away? If you use it for broth you may not care if the pulp is really dry. If it goes in the compost you may want your juicer to juice it really dry. Know the answers to these questions as you search for a juicer.
Some of you may want more than one kind of juicer and you may use them all for different things. If you don't want to own several juicers, get a juicer that will juice in a variety of ways, for example: puree, clear juice, wheat grass juice and nut butters. You can justify paying a higher price for a juicer that is more versatile.
Check the durability and health safety of the materials used in construction as well as the durability of the motor that powers your machine. Juicing for health is a way of life and having the right machine for your needs is important so it will be a satisfying experience for you.
Citrus Manual Juicers
An orange juice squeezer is used for squeezing juice from fruits that have a soft center such as oranges and lemons.  The citrus hand juicer is also be known as a reamer.  Some models are hand held while others sit on the counter.  They are easy to use and easy to clean.
Half of a fruit is placed in a manual citrus juicer and it is pressed and twisted to force the juice out through a strainer while the pulp and seeds are retained in the juicer basket.
A good benefit of a manual citrus juicer is the convenience of not having to plug it in. The citrus hand juicer can be used anywhere you happen to be. Another great benefit is that it is an easy way to get citrus juice. The downside of a hand citrus fruit juicer is that it requires physical labor.
Using a manual citrus juicer requires the use of your muscles to squeeze the juice out, which may not be our first choice when we want a relaxing fruit drink. Some people like the rewarding feeling of doing it manually.
A huge bonus for an orange juice squeezer is price. The cost of buying a hand citrus juicer is usually less than the electric ones.  There is actually a wide variety of prices for the manual citrus juicer, depending on features and the materials from which it is made.  I think you get what you pay for.  The choice is yours.  What will it be for you?  Manual or Electric?
Juicer Parts
You will find the juicer replacement parts that you are looking for at great prices. Please browse through our juicer accessories and review the product descriptions, images, and ordering information.
As you browse our categories of juicer parts, please keep in mind that each of our juicer replacement parts come with a satisfaction guarantee. We want to make sure you receive only fine quality juicer accessories and are satisfied with your order. Please be sure to contact us if you don't find what you're looking for or if you'd like us to make a suggestion on items for you.
You can be confident as you shop with us. We work with reliable suppliers who understand our dedication to customer service and excellence in the juicer parts that you purchase. We know that if you find what you are looking for that you'll most likely shop with us again.
Healthy Supplements and Ingredients
We believe we should eat right and get our nutrition from our food. Having said that, we realize that sometimes it just isn't convenient to eat right. For those times of your life, we offer some healthy supplements from two companies that have a mission of wellness and police what goes into their products to ensure health. NatureRich is one of those companies.
Check out their healthy products and experience the good nutrition they provide.  Neways is the other company and we use and recommend their products because of company integrity and we can feel the difference.
These companies use the highest-quality minerals, most life-giving nutrients and best natural ingredients available in their nutritional products. Taking food supplements resembles an insurance policy to prevent deficiencies in essential vitamins, minerals and enzymes that are needed to maintain good health.
In preparing nutritional healthy food for your family, you want to chose the best ingredients for health. From time to time as they come available to us, we will be adding new healthy ingredients so check back often to see if we offer your favorite healthy ingredients.